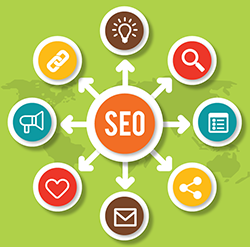 In today's crowded internet landscape, having a website that potential customers can quickly find is crucial for business success.
A website's ranking on a search engine–Google, Bing and Yahoo among the most popular–has a huge impact on how quickly and easily people online can find it. A site that ranks on the fourth page of search results will be that much harder to find compared to a website that ranks high on the first page. The drive for a higher page ranking is all about meeting the needs of web users who don't have time or patience to sort through oodles of page listing. A study by Jupiter Communications found 68% of users will only click websites that rank on the first page of search results.
Websites that get found are good for business. Our newest client, Accent-Group, made this connection while examining its strategy to connect with prospective small business customers. So they asked d3pr for help.
Accent-Group provides a suit of marketing support services — product branding, online stores, and promotional consultancy — to a diverse client group. The company's website features innovative gifts and corporate apparel that customers can purchase and brand with their own company logo.
Accent-Group's research shows many smaller companies habitually buy promotional items over the web (and prefer to do it that way), but they aren't coming to the Accent-Group website, accent-group.ca
"We Goggled Accent Group…not on page 1, or 2, or 3……! 10 pages later, there we were", said Guy McGee, Regional Sales Manager at Accent-Group. "So our next move forward was to have an outside company come in and advise us as to improving our SEO and social media presence. We want our name to rank to at least page 2, but have clients and persons involved with Accent and what they are doing."
Search Engine Optimization (SEO) is an affordable, cost effective way for business (and organizations) of all sizes to manage websites that get noticed.
SEO is a process in which a website's content and back-end code (HTML) are strategically organized to improve rankings on search pages.
Here is what we recommend for Accent-Group:
Define the goals and success factors for the SEO campaign
We consulted at length with the company to identify the goals and objectives for their campaign, as well as what success would look like.
Support search engine technology with website updates
The back-end code on accent-group.ca was evaluated and updated with HTML enhancements, making it easier for search engines to track the site. A crucial part of this process included working closely with the company to create a list keywords that would help prospective customers find the products and services they provide.
Get social
We encouraged Accent-Group to set up a LinkedIn company page, and create/write a blog to engage their audience and motivate them to share and talk about that content online.
Accent-Group's SEO campaign launched last week, and we are very excited to be part of this story. Their goal is to have 30% of business going through accent-group.ca
In the weeks to come we will provide updates on the progress of the campaign.
Stay tuned for more.
Peter Dolphin
Public Relations Advisor/Web Developer
*SEO graphic Designed by Freepik