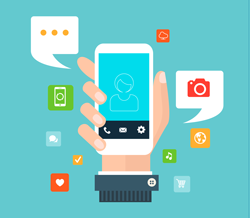 As more and more people use smart phones to find products and services, cheap websites must be able serve the needs of customers in their mobile moments—those times when they pull out a cell phone and get something done.
It could be to count calories before ordering dinner or to check to a check for a flight upgrade at the airport.
Here are three easy ways to serve your customers in their mobile moments:
Think Mobile
Consider your customer's mobile moments. Think about what your customer needs and how you can best serve them in that mobile moment—right when they need your company's product or service the most.
Build For Mobile
Build the information technology systems to support that service that meets your customer's needs. For example, sale create a mobile app to help your customer do something that's important to them. Best Western International Inc created a mobile app to help their customers book hotel rooms at any of the company's hotel chains.
Another way to build for mobile is to create a responsive website that automatically adapts to fit the screen size on mobile and tablet devices. If you're creating a new website, it's better to invest in the development costs to produce a responsive design from the start. That way, the site is hardwired to work on mobile and tablet devices. Modifications can be made along the way to build in functionality to meet customers' specific mobile moments of need as they are identified.
On the other hand, if you have an older website that is not responsive, analyze the website traffic using a service like Google Analytics before making the investment to convert to a responsive design. Google Analytics can report traffic from specific devices: mobile, table and desktop. A static website that generates 5% of visits from people on mobile devices does not need to be converted to a responsive design right away. But when 15% of traffic to a website comes from mobile devices, it's time to start talking a web developer about converting to a responsive design format.
A website that can serve customers' mobile moments will in turn achieve a mobile moment of its own. That mobile moment happens when 50% of traffic to a website comes from visitors on mobile phones. LinkedIn reached its mobile moment earlier this year. According to marketwatch.com, more than half of unique visiting members use a mobile device to get onto the popular networking website.
Analyze Results
Analyze the data collected and modify the mobile service to improve the customer experience. For example, assess your Google Analytics data to understand how visitors from mobile phone are navigating the website.
And if you've created a mobile app, review customer usage data to find ways to make the user experience better.
Graphic: Designed by Freepik